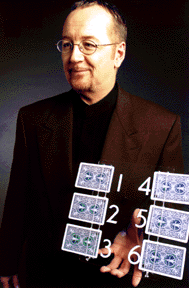 Mentalist Rex Sikes is a hit in corporations and colleges.
What's a Motivational Mind Reading show like?
Imagine your next event: Everyone is seated, still smiling from the last demonstration of Mind Reading by Rex. Now he moves into the secret art of using humor, intuition, and mystery to get people thinking about WHAT IS REALLY POSSIBLE in their own lives. This becomes fascinating!
"Your show was as entertaining as the first time I saw it. My guests were amazed and had a great time. It's memorable, mind boggling and fun. Thanks!" Steve Shor, Producer, President of Shor Films, Los Angeles, CA
No information is ever given Rex before the show yet, names, numbers and innermost thoughts are revealed as they are held in the minds of his audience who are strangers to him.
From laughter to stunned silence your audience will love Rex. People will marvel at the wonders of the human mind.
"Rex's show is perfect entertainment, quickly captivating even the toughest audiences as mysterious wonders are unveiled. Perfect for banquet, executive party, dinner program and conference, any special event program where entertaining special guests is a must. Rex is a meeting planner's dream." Carolyn Sanders, Meeting Planner, Flagstaff, AZ
A Prediction: Rex Sikes + Mind Reading = Your event is GUARANTEED to be a hit!
Rex's show is guaranteed to leave your audience baffled, laughing and thoroughly entertained. An event of clean, good natured, fun, and mystifying entertainment. Truely "a meeting planners dream."
Which show do you want to see?
On The Stage:
Rex Sikes' Theater of the Mind
Theater of the Mind comes packed with energy, humor, audience involvement and mystery. Rex demonstrates Telepathy, Clairvoyance, Psychokinesis, Precognition and other psychic phenomenon. Your audience will be stunned and delighted. The personal impact of having your mind read makes this show irresistible -- even for skeptics!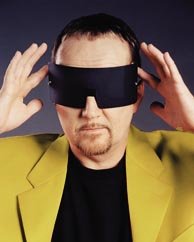 Psychic Entertainer though blindfolded divines objects.
Right at the Table:
Mind Magic
Rex will delight and mystify you and your guests by presenting Mind Magic as he moves from table to table or from group to group. Thoughts read and predictions verified for your guests. Fun and mind-boggling entertainment.
Close-Up Show:
Mental Mysteries
Mental Mysteries is perfect for smaller sales meetings, trade shows and intimate home or office parties. Rex will intrigue and delight small groups in an up-close and personal setting.
Trade Shows and Sales Meetings:
Rex can customize his close-up show or stage show for trade show presentations and sales meetings. Imagine the increase in traffic to your sales area and increase your contacts - and customers will definitely remember your product!
TV Appearance:
Rex is available to present a 3-to-8 minute Mind Reading Mystery especially for TV appearances.
Representation: Sari Shapiro Personal Management, Los Angeles, CA. PH/FX 310-575-4154
"Way, way cooler than a magician or any other kind of entertainment! Rex your show is funny, mind boggling, and amazing! Thanks, you made our event an absolutely memorable occasion. People are still talking about it!" Kay Rhomberg, Meeting Planner, La Crosse, WI
WARNING There is nothing supernatural or occult about what Rex does. Rex uses no secret assistants, yet he reads the minds of you and your guests. How? It's all in learning how to use your brain in new ways---ways which Rex will demonstrate through his unique Motivational Mind Reading show!
"We heard many comments about your performance during the evening and the following week. It seems that you really amazed them with your "MIND READING". They were perplexed as to how you could know what they were thinking in their head!! Even the "doubtful" people (no way he can guess what I am thinking) were impressed. One person came over to talk to me the first day back at work and was so excited about your performance, she must have talked to me about it for a half hour. Another gal caught me at the party and told me, with complete and utter amazement, how you guessed what she was thinking. The employees loved you and I would readily hire you again for a future party. Thank you again for assisting us with the success of our holiday party." Ann Larkin, Controller, RESTAT, West Bend, WI
Rex is also available to speak before your group on improving communications skills. For information, or to book Rex Sikes for corporate seminars and training workshops in "Psychic Sales," "Developing your Intuition" and "How To Get People To Do What You Want," call Rex today!!!
© Copyright Rex Sikes 2002 -2007 all rights reserved in all media
What People Are Saying
Contents Copyright © 2000-2002 by Rex Sikes. All rights reserved.


Corporate Entertainment at it's very best: Mentalist, Corporate Entertainer, Psychic Entertainer, Mind Reader or Mindreader.
Mentalist and Corporate Entertainer, Rex Sikes, is the "World's First Motivational Mind Reader" Mentalist Rex Sikes is also known as the best mind reader in the world, one of the busiest (mindreaders) or mind readers, a world famous mind reader or mindreader act. He can be found looking for mentalist, mentalists, mind reader, world's first motivational mind reader, corporate entertainer, psychic mentalist, psychic performer or a psychic entertainer.
When working for corporations or providing corporate entertainment at corporate events, Rex is booked as corporate entertainer, a corporate event entertainer or a corporate mentalist, a corporate magician, a corporate mind reader and as conference entertainer. When booked at schools Rex may be called a college mentalist, campus performer or campus entertainer, college performer or college entertainer. Sometimes he is also sometimes referred to as a live entertainer, keynote speaker, motivational speaker, a hypnotists, a psychic or even as a comic or comedian .
What does it mean that Rex Sikes is the World's First Motivational Mind Reader?
It means Rex combines decades of experience as a motivational speaker and trainer helping individuals and corporations the world over to make lasting positive changes with his unique abilities as a performer, stand up comic, actor and psychic. He provides enlightening entertainment that audiences both benefit from and love. There is no other speaker in the world like Rex Sikes. And that means you get the very best! Clean, Fun Corporate Entertainment. While Rex is not a typical stand up comedian his shows are funny. Your audience will laugh, scream, and be delighted with the comic mind reading skills of Rex Sikes.

Rex Sikes has combined his experience of productively helping corporations for decades with entertaining and inspiring demonstrations of mind reading, ESP, mental feats and what you can do when you maintain a positive attitude. Some of his show consists of mind reading, psychic entertainment, telepathy, second sight, sixth sense, magic of the mind, ESP, telepathy, extrasensory perception, comedy. Rex provides a wonderful variety your audience will love. and it is great variety, variety entertainment filled with audience participation.
People say of Rex "There is no one else like him." "He is truly one of a kind." "You live up to your name Amazing Rex." "An event planner's dream" and "Best Mind Reader in the World".

A mentalist is one who has developed one's mind. Rex shows you what you can do when you put your mind to work. And what he can do will truly astound you!
Rex is also a certified hypnotherapist and stage hypnotist. However, he specializes in providing you world class mind reading entertainment as no one else can.
"Sharp, funny, intriguing, astonishing, captivating, exciting, professional, incredible, awesome, and outstanding" are words used over and over again to attempt to describe Rex Sikes unique brand of entertainment.
As an entertaining motivational keynote speaker, Sikes has worked throughout the United States and the world captivating audiences with his unique abilities as a psychic entertainer, corporate speaker, comic, hypnotist and seminar leader. Many companies hire Rex to present his unique mind-boggling demonstrations one day and the next day they have him conduct a seminar or workshop.Rex has appeared for virtually every type of corporate function or event in companies large and small, from award banquets, and conventions, to sales meetings and trade shows. He's a hit on college and university campuses performing as a mentalist.
He has presented his amazing "Theatre of the Mind" show at public functions, fundraiser's and in theaters. He appears at high end private affairs and parties and in all media.
Additionally, Rex has worked as a stand-up comic or comedian, and a stage hypnotist. He's appeared before millions as an actor in television and film, travels as a keynote and endnote speaker and trained professional development seminars world wide - but one thing is for sure, he's always entertaining. Perhaps you have already seen him on national television or heard him on the radio.
Join psychic entertainer Rex Sikes on his Web site as he invites you into his world. Here you will find articles and testimonials that will convince you that Rex is truly an "Amazing" corporate entertainer. You'll discover why corporations chose Rex Sikes as a professional speaker to motivate and entertain their employees important guests, clients and associates. His entertaining presentations are great for CEO's and upper management and every type of employee function.
Business audiences love the Amazing Rex's corporate entertainment and motivational message. His live corporate presentations address team building, creating rapport, developing relationships, understanding yes and no nonverbal signals, all of which are important for getting more sales, increasing the bottom line, providing excellent customer service and for getting along within the work environment. Plus, much, much more!
Rex's topics are appropriate for sales meetings, trade shows, conferences, customer service seminars, award banquets as well as breakfast, luncheon and after dinner entertainment. The types of functions he performs at include gala events, a corporate function or a corporate event, an after dinner show, an association meeting, an incentive trip, a corporate party or a company party. Including, audiences at an awards banquet, a client banquet, a client appreciation event, a convention, at a business meeting or user conference and at a company banquet or company holiday party. Others include college campus entertainment, cruise ships, fairs and festivals.
Some of Rex's clients and sponsors nationwide include: Microsoft, Northwestern Mutual, Catholic Knights, GE, AFLAC, Johnson & Johnson, Century 21, McDonald's, Time/Warner, Subway, Country USA, Bayer:Environmental, American Lung Association and many more. Meeting planners, event planners, party co-ordinators and event co-ordinators, love Rex for their clients and client sessions, FAMs, and a wide variety of event needs.
Today you can get Rex Sikes The World's First Motivational Mind Reader to make a special appearance at your event!
So Book Rex right now and let him custom design a message for your important group or business event. You will be so glad you did. He will help make your important function truly outstanding. "Absolutely wonderful Corporate Entertainment!"
Contact - Representation: Sari Shapiro Personal Management, Los Angeles, CA. PH/FX 310-575-4154
Thanks for your interest in Mentalist Rex Sikes' range of entertainment services:Mind-Reading: The World's First Motivational Mind Reader, Keynote Speaker, Master of Ceremonies, (MC) Seminar Leader & Consultant, Stand Up Comedian, Stage Hypnotist

© Copyright 2000 -2008 All rights reserved in all media