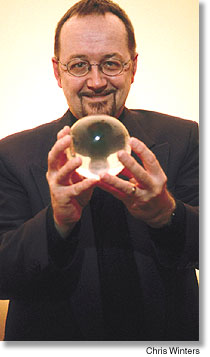 Rex Sikes says there is nothing supernatural about reading other people's minds.
---
Ever felt that you knew what your spouse was going to say just a second before the words came out of his or her mouth? Or, have you been with your best friend and both of you said the same thing at exactly the same moment? This phenomenon comes from being so close to a person that you feel you can anticipate their next thought.
That's not unlike what many so-called mind readers do, according to Rex Sikes, a Brookfield-based corporate speaker and authority in non-verbal communication. Sikes claims that there's nothing supernatural about being able to read the thoughts of others. "You can use nonverbal cues and your intuitive skills to figure out what people have on their minds," he said. "We all share the same physiology and the same habituated ways of thinking. When people are in the same situations, they often end up thinking alike. It's human, not supernatural," he said.
Sikes displays his intuitive skills at social events and conventions as Amazing Rex, often performing at corporate holiday parties and other functions. As his regular persona, Rex Sikes, he has developed dozens of training seminars for a variety of groups including psychologists, police, drug enforcement agencies, hostage negotiators and customer service organizations on the importance of understanding people and the way they think. "Anyone who works with people can use these skills," he said.
Sikes has been practicing thought reading since he was a child. "I was always fascinated by it," he said. "I would read books on hypnosis and experiment with my friends, guessing cards and things like that." Twenty-plus years later, he continues to use his skills to educate and entertain.
Sikes claims that anybody can learn to do what he does if they invest a little time and energy. "When I meet people and talk to them, I look for patterns and cues. What I believe I do is give practical tools that others can use in the real world," he said.
Knowing how to relate to your fellow inhabitants of earth is a worthwhile idea, Sikes explained. "Especially since Sept. 11, we need to be kinder and gentler to one another. It's as simple as knowing that what we do affects other people. By your attitude, you can influence and persuade them to do things," he explained.
Sikes is also the author of a number of publications and an audio tape program titled, "How to Get People To Do What You Want Without Begging, Pleading, Whining Or Nagging." For more information about Sikes, see www.amazingrex.com.
Used with permission of LifeStyle West
© Copyright Rex Sikes 2000 -2008 All rights reserved in all media