'Thought programmer' is a more apt description, Brookfield's Sikes says.
Rex Sikes' title conjures up images of 900 numbers but he says he does not do anything that anybody else cannot do.
He will not tell your future. He will not reveal your deepest secrets. He cannot pick all the lottery numbers and become instantly rich.
But he can read your thoughts. Anybody can, he said.
"Nothing I do is supernatural and nothing is out of the ordinary," he said.
Sikes (which is his real name and not a pun on psychs) is a "psychic entertainer." Whether the emphasis is on the "psychic" or the "entertainer" is up to the individual.
"I consider myself an entertainer first and foremost," said the 46-year-old Brookfield resident, who operates Amazing Productions.
Sikes uses humor and 100 percent audience involvement (it is not very entertaining to read his own mind, he said) to amuse and befuddle groups ranging in size from 10 to 600. His venues range from holiday parties at someone's home to corporate dinner parties.
He did a shortened version of his show for an employee appreciation breakfast for the Waukesha Area Chamber of Commerce in April.
Like most people before they have seen Sikes in action, chamber event coordinator Greg Groszczyk was not an immediate believer.
"You're always skeptical," he said. But after seeing a co-worker involved in the show whom Groszczyk knew had not plotted with Sikes beforehand, Groszczyk became less doubtful.
"He even had one of our own staff up there," he said. "He told her to think of someone famous. It just happened to be Abraham Lincoln, and he guessed that."
Sikes said he cannot always be right on the money.
"I'm not 100 percent," he said. "I can be wrong."
But, he said, he would not be in business for long if he was not usually right.
Sikes, a member of the Psychic Entertainers Association, attended the group's annual convention in New Orleans last month.
Sikes, like other members of the 30-year-old association, does not like the word psychic because it makes people think of dial-up fortune tellers who claim to have supernatural power.
"The word psychic is not one we're fond of," he said.
Sikes thinks of himself as a thought reader.
In his shows, Sikes utilizes his knowledge of nonverbal communication and neuro-linguistic programming -- a total approach to communication -- to read, for example, a word that someone is thinking of.
Sikes said his reputation internationally is as a specialist in neuro-linguistic programming, and he is considered one of the world's top authorities on it. He has been doing neuro-linguistic programming, referred to in his field as NLP, for 22 years. NLP incorporates the language of the brain and the communication of the body to better communicate and influence other people positively. Sikes conducts training and workshops in various levels of NLP from beginning to advanced through his other business, IDEA Seminars.
"NLP is wonderful," he said. "What it represents is the first practical method of being able to connect with another person quickly."
He said NLP can help people become better parents or better business managers or communicate better with their spouses.
"The skills are applicable across the board," he said.
Sikes said some people use more auditory words when they speak, while others speak visually or kinesthetically, or, more simply, people relate to sounds, pictures or feelings.
To express the same thing, different people may say: "I understand you," "I see what you mean," "I can get a grasp on it" or "I'm in tune with you."
One person is probably drawing a picture in his head, another is repeating the words in his head and another is paying attention to sensations in his body, Sikes said.
"By understanding how another person speaks these languages, you can better communicate with them," he said. Sikes compares it to going to China and not being able to speak Chinese. If you ask where the bathroom is in English and the Chinese-speaking person does not understand you, it does not help to repeat "bathroom" louder.
"We do the same thing with people who speak English," Sikes said. "People speak different languages (within our language)."
For more information on Sikes' shows, visit www.amazingrex.com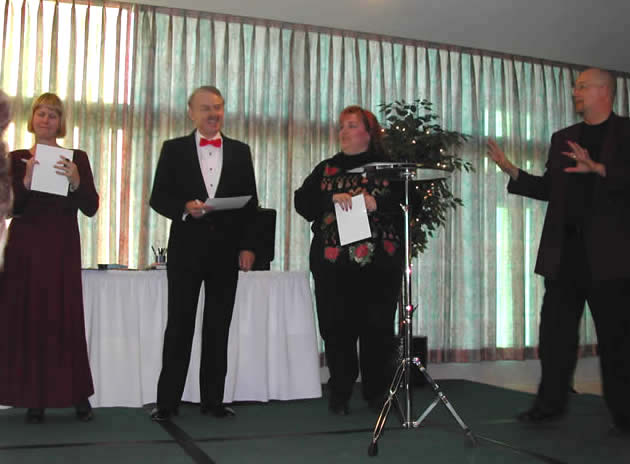 Catholic Knights CEO/President Daniel J. Steininger and associates have fun with Rex at their annual holdiay party.
© Copyright Rex Sikes 2000 -2008 all rights reserved in all media