Daily Herald

Wausau native can pick your brain

Think ESP is a crock? Catch Sikes' show — he'll tell you what's on your mind

By Keith Uhlig - Used with permission
Wausau Daily Herald June 13, 2006
Don't play poker with Rex Steven Sikes.
Yeah, it would be interesting to talk to the Wausau native about his time in Hollywood, how he played "Rodney" in the slasher/cult classic movie "Massacre at Central High" and the intriguingly named character of "Masher" in "Goodbye Norma Jean," movies that both came out in 1976.
But that pleasure likely would be offset if Sikes, a Wausau East High School graduate, employed another of his skills, that of a mind reader. Whether you believe in mind-reading, the fact is that Sikes now earns his living by telling people what's on their minds.
Sikes uses mind-reading skills to entertain audiences across the country, mostly at corporate seminars and colleges, but also in general. He also does corporate training to help business people communicate better, work as a team and learn to think creatively.
He does this all across the country, billing himself as "The Amazing Rex" and "The world's first motivational mind reader."
"It's a quirky little niche that he's carved out for himself in the entertainment business," said Sikes' personal manager, Sari Shapiro of Los Angeles. "I think he's the perfect person to build a TV show around. No one has ever been able to poke a hole in his show, and that says a lot right there."
Sikes, 51, lives in Brookfield. The 1973 East graduate has taken a unique life path, and it all started when he was a little kid.
"I have been doing the mind reading since I was 8 years old," Sikes said. "I got involved with a cousin trying to project thoughts back and forth after reading a book about ESP."
He and his cousin would take turns trying to guess color and suits of playing cards. It didn't go well at first, but gradually they started to get "hits." Finally, Sikes discovered he was good at it.
"We were just trying things and didn't know we couldn't do it," Sikes said. "We just believed it."
How does it work? It's not through spiritualism, the supernatural or the occult, he said. Part of it is simply getting a good read on people — knowing about little cues or signs of what's happening inside their noggins. Eyes widen or tighten, lips get bigger or smaller, people sweat or not. But there's more to it, he said. He'll have visions or flashes in his own head. He calls it intuition, or a mind-to-mind connection. "I have no ultimate answer about how we pick up things," he said.
At the same time he was exploring the boundaries of the mind, he was flexing his entertainment muscles. He started doing magic shows around Wausau, again as early as 8 years old. He just knew he was meant to perform in front of an audience.
"I love entertaining. I saw the movie 'Houdini' when I was little and always wanted to be in front of people in a fashion. That's why I've always done what I do. I love people, love connecting with people," he said. "I would have been in Hollywood at 4. I always wanted to be in New York or Hollywood."
Sikes is the son of Rex Doyle Sikes, 85, and Mary Sikes, 77, of Wausau. They helped him along his career path, even though they were sort of skeptical.
"I made the mistake of hiring a magician to teach him magic," said the elder Rex Sikes. "I hate magic, by the way. Pick a card, that sort of crap."
But at the same time, Rex Sikes, the father, is proud of his son. "I've seen his act a couple times. It's really amazing, and he does a really nice job. ... I'd like to see him perform at the Grand Theater some day."
The younger Rex Sikes wouldn't mind that at all. Even though his heart still is in Hollywood, he thinks performing in the downtown Wausau theater would help reconnect with his first home.
"I'd love to come in and do that," he said.
On the Web
To learn more about Rex Steven Sikes, check out his Web sites at www.amazingrex.com and www.idea-seminars.com.

About Rex Steven Sikes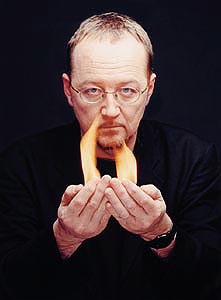 Residence: Brookfield.
Occupation: Motivational mind reader
Family: Divorced; two children, ages 7 and 4
Something you should know: Sikes is a certified practitioner and trainer of neuro linguistic programming, a set of techniques that helps people change behaviors and choose mental, emotional and physical well-being. He's developed his own way of using the technique and leads seminars on the topic.

Rex Sikes performs his mind-reading show at colleges and corporate seminars across the country. Here, he enteretains at the College Misericordia in Dallas, Pa.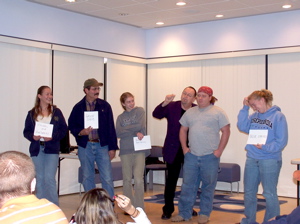 Contributed Photos
© Copyright 2006 Wausau Daily Herald
All Web site contents & pages are © Copyright Rex Sikes 2000 -2008 all rights reserved in all media
© Copyright Rex Sikes 2000 -2007 All rights reserved in all media