Minding Others' Business: Rex Sikes teaches the art of communication
By Adam Kirby Staff Writer
Brookfield News Volume 50, No 44, November 3, 2005
Corporate managers hire Rex Sikes team-building seminars because he knows how to effectively communicate.
Participants in the Brookfield man's sessions enjoy him for the way he communicates.
He reads their minds.
Sikes, has laid claim to a niche in the popular motivational entertainment industry building a successful and busy career out of interpreting verbal and non-verbal cues – as well as, he said, mind to mind interaction.
Whether Sikes has supernatural powers or not is open to interpretation, but considering he performs more than 100 shows annually for corporate clients and star star-studded crowds from coast to coast, he's certainly good at what he does.
"I'm not 100 percent correct," said Sikes, who goes by the stage name Amazing Rex, "but I'm correct enough to be in business."
"Typically, their jaws are on the floor and their eyes pop out." He said matter-of-factly.
Nonverbal cues
A big part of his work is speaking to business groups about the art of communication. Besides entertaining, his goal is to illustrate the power of positive thinking --- "what's possible when you put your mind to it" --- as well as persuasion techniques and team- building.
In the past, Sikes has done side work with police departments, training offers about how to spot dishonesty. He even worked as a consultant o=during the O.J. Simpson trial, he said.
Sikes has been reading minds since the age of 8, he said, and he never asks for background information beforehand. Rather, he has mastered the intricacies of nonverbal communication --- what poker player refer to as "tells". In fact, his abilities have gotten him barred from some casinos, he said.
Sikes is not a fortune-teller, he said, but he claims to have had his share of unexplainable visions over the years. He told of once having the image of a baby choking on a rubber bottle-nipple flash through his mind and moments later finding his daughter chewing on --- what else --- a rubber bottle nipple.
Voice actress Debi Derryberry doubted mind-reading was possible before seeing Sikes perform at a Hollywood party. She doubts no more.
"His show is nothing short of astounding," Derryberry said. "I'm a big skeptic as far as believing what you see, and he put on a show that just left me dumbfounded."
Gifted actor
Sikes, who shares a passing resemblance to comedian George Carlin spent much of the 70s and 80's living in California as an actor in numerous independent movies while perfecting his mindreading.
His Los Angeles-based manager, Sari Shapiro, is eager to draw Sikes back to the West Coast and back to the glow of the cinema.
"He's an amazingly good actor," Shapiro said.
Sikes is hesitant about relocating again --- he has two young children living in the Milwaukee area --- but he does plan to pursue acting again in some capacity.
In the meantime, having built three decades worth of high-profile contacts through his "mentalist" job, he is rarely in search of seminar work.
"sitting there in Brookfield, you have one of Hollywood's long-term success stories," Shapiro said. "Out here, when he does private parties and events, he's the guy everyone goes for because he (understands) the Hollywood group and he's great at what he does."
And Sikes loves what he does, but there can be a downside, he said. While he's "thrilled" to entertain, he finds people constantly asking him to read their minds --- even when he's not working.
"Everybody wants a taste of the mind-reader," he mused.
"Amazing" Rex Sikes has a web site at www.amazingrex.com. He can also be reached by phone 262-790-1993 and through his manager Sari Shapiro 310-575-4154. Performance rates vary.
Copyright: Brookfield News 2005 : Used with permission
Rex Sikes has built a successful career out of his talents as a "mentalist" giving mind readings to corporate big-wigs and Hollywood stars.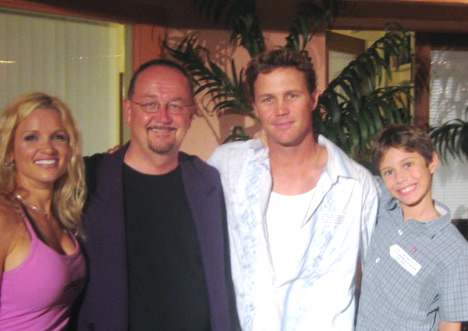 "Fitness Trainer to the Stars" Tina Castaldi and Rex, "Charmed" star Brian Krause and son.
Corporate Shows are wonderful and everyone has an incredible time!!!!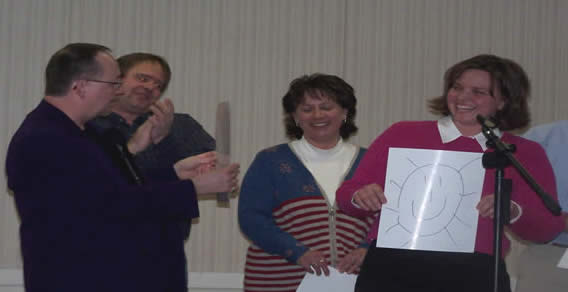 Obviously, they just can't help but smile when participating with Rex during his corporate "Theatre of the Mind" presentation.
© Copyright Rex Sikes 2000 -2008 all rights reserved in all media